Vlafy
MJPEG Encoder x64
(Version 1.0.0.5)
Overview
Vlafy MJPEG Encoder is intended for capture video using standard MJPEG algorithm. Encoder is support interlace preservation. It has optimization for 2 CPUs (cores) and partial SSE optimization. To play captured file you can use any MJPEG decoders with any media players. OS Windows has free MJPEG decoder. Also you can edit and re-encode your file in all video editors.
This encoder can be used with ASF Direct Writer filter.
Vlafy MJPEG Encoder optimized for using on multiprocessors systems. Also partial SSE/SSE2 optimization used.
System requirements
Following software must be installed on your system:
<![if !supportLists]>· <![endif]>OS Microsoft Windows XP 64 bit, Windows 2003 64 bit or Windows Vista 64 bit;
<![if !supportLists]>· <![endif]>iuVCS x64 version 0.9.0.5 (or higher) or another 64-bit video capture/editing tool;
Encoder settings
On the picture below the encoder property page is shown.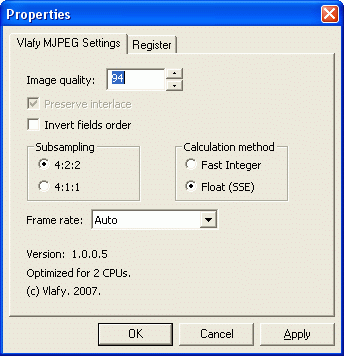 The encoder settings.
Parameter

Possible values

Description

Image quality

0..100

Quality of the output (compressed) image. Greater value corresponds to better quality and greater size of captured file.

Preserve interlace

On/Off

Preserving interlace structure of the image. Always on in current release.

Invert fields order

On/Off

Invert fields order before encoding.

Subsampling

4:2:2/4:1:1

Color components downsampling. Parameter value 4:2:2 corresponds to better color quality and greater size of captured file. However for some analog video sources (such as VHS) it can be good 4:1:1 because source already has frequency band limitation.

You can choose appropriate value of this parameter experimentally.

Calculation method

Fast Integer/Float (SSE)

Fast Integer — quick method, Float — more accuracy (slow) method.

Frame rate

Auto/25/29,97

Video frame rate. In some cases it can be demanded to specify desired frame rate obviously. For example, to capture video from TV tuners created on some Conexant chipsets you should use intermediate filter named "Conexant Color Format Converter" (CXF2 to YUY2 format converter). This filter always changes frame rate to 29,97 fps. This mistake affects the audio-video synchronization for PAL/SECAM video source. So this parameter allows you to set frame rate to 25 fps for capture video from PAL/SECAM source.